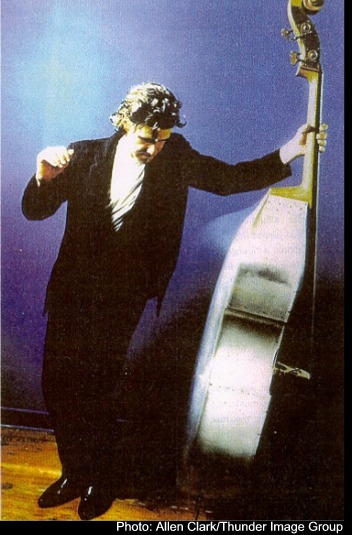 Bass Player Crosstalk - Music Connection
Bass Notes - Bass Player Magazine
Steady Rollin' by Bob Margolin - Blues Review
Nightwatch - The Washington Post
---
Bass Player Crosstalk - Music Connection, March 1998
This veteran bassist has built his name up over the years, resulting in his work with the Rolling Stones.
By Jonathan Widran
For Jeff Sarli, playing upright bass on three cuts:"Flip The Switch", "Too Tight" and "How Can I Stop" - from The Rolling Stones' recent Bridges to Babylon album, was the fulfillment of a lifetime dream. The veteran bassist, whose resume boasts equal splashes of rockabilly, roots rock and delta blues, recalls that at age thirteen, the first song he ever played with his first band was the Stones' "Satisfaction".
"We called ourselves Money Back Guarantee," laughs Sarli, who has since gone on to jam with the likes of Marshall Crenshaw, The Band, Bob Margolin (from Muddy Waters' group) and Commander Cody guitarist Bill Kirchen. "We had two guitars, which was my first instrument, drums and an accordion player whose mother let us rehearse at his house. After we played that song, I fantasized what it might be like to play with the Stones."
Sarli would have to wait a few years for that dream to come true. Recording with guitarist John Mooney and Bluesiana (the band is preparing to tour this year), Sarli bonded with the project's drummer, George Recile, and producer Rob Fraboni, both of whom had just worked with Keith Richards on his solo album. Fraboni was so impressed with Sarli's ability on both electric and acoustic bass that he invited him to meet the Stones in Connecticut.
Sarli recalls the impromptu jam session, saying, "We turned on the tape machine and recorded some great stuff. It just felt really comfortable. Keith said that kind of thing is rare for him, too, because usually the Stones sit in the studio for months before committing anything to tape. He brought up his interest in maybe doing a whole project of cover tunes he's played live by himself, but then when Bridges to Babylon came up, he got sidetracked."
Months later, when Frabroni was tapped to record tracks on the project, Sarli got the surprise call - Richards wanted to that upright bass flavor on those three tracks. Unable to find a suitable cargo case for the huge upright, Sarli bought an extra first class ticket to take the instrument on the plane from his hometown in Baltimore to L.A. - even getting frequent flier mileage credit for it! Sarli spent a lot of days just hanging at Ocean Way and jamming informally before being tapped for the tracks.
"It was a very loose situation." Sarli says. "Keith had very specific ideas for me. He didn't want straight eights, he preferred a Dixon type feeling with more syncopation and cutting time in half, like the bass you hear on those old Chuck Berry recordings. Keith would sing the lines to me and tell me to just do what I do best. It wasn't till after each session, when I got back to my hotel, that I thought, Oh my God, I'm jamming with the Stones!"
A restless sort who is committed to following muses, Sarli's motto is live it, learn it and move on. "I have a habit of playing with a band for a few years - each time pushing myself to explore new styles - and then moving on. It's not that I get bored, it's just that there is so much to learn.
"I'm not sure where that spirit comes from," he admits. "I think I'm just committed to learning more about myself and growing as a player. I guess I don't want to be locked into any specific lifestyle or music. I feel comfortable in a lot of situations."
No matter the situation Sarli gravitates to, his basic approach to the bass remains simple. "Virtuosity has its place, don't get me wrong," he explains, "but with me, people figure they are going to get something else instead of that genius touch. Something solid, simple, nothing too intense, but that feels really good. Not everyone wants to hear a bassist explore the upper register, walking lines all over the place, because some situations just call for a sound that's raw, fat and loud. Part of that is my natural affinity for roots music, where bass solos aren't encouraged. It's more about keeping the flow going, swinging in more subtle, less obvious ways. To me, the best thing a bass player can do is be so effective that he goes largely unnoticed."