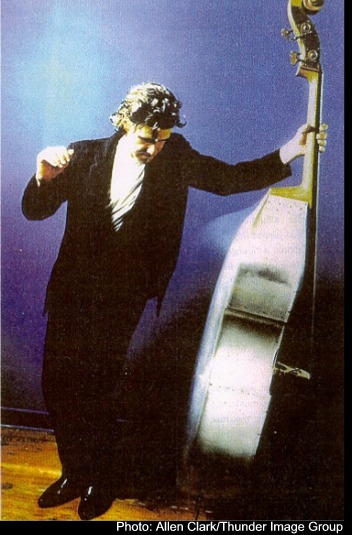 Bass Player Crosstalk - Music Connection
Bass Notes - Bass Player Magazine
Steady Rollin' by Bob Margolin - Blues Review
Nightwatch - The Washington Post
---
Jeff Sarli Gets Satisfaction
By Eric Brace
Washington Post Staff Writer
Friday, June 28, 1996

A YEAR AGO, Jeff Sarli was in Branson, Mo., playing upright bass in a stage tribute to Patsy Cline. He was doing seven, eight, nine shows a week for the bused-in audiences. He'd arrived in May and would leave three months later, despite the good paycheck. "The scene in Branson just wasn't me," says the 37-year-old man with a soul patch on his chin and a mop of hair falling over his eyes. "I'm into rock 'n' roll, y'know?"

It's a good thing he is, because Sarli has just been tapped by one of rock's true gods, Rolling Stones guitarist Keith Richards, to play bass on Richards's upcoming recording sessions. "Man, I saw the Stones on Ed Sullivan 30 years ago and remember it clear as day," says Sarli from his home in Annapolis. "For something like this to come together, it's more than I could hope to ever happen."

Not a bad gig for a guy who's been kicking around D.C. bands and bars for nearly 20 years. "I first started working in D.C. around 1979," says Sarli. "I was playing with Billy Hancock and the Tennessee Rockets. That's when I first started playing upright, and I kinda sucked back then." He stayed busy though, getting his chops down with the Dynettes, Tru Fax & the Insaniacs, Bob Margolin, the Uptown Rhythm Kings, Tom Principato, Bill Kirchen and especially Big Joe & the Dynaflows.

Sarli and his red-and-black acoustic bass have also hit the road several times over the past 10 years with bluesman John Mooney. When he returned from Branson, Sarli called Mooney in New Orleans, who invited Sarli into the recording studio down in the Crescent City. Producer Rob Fraboni liked the way Sarli clicked with drummer George Recile and Sarli ended up on several tracks of Mooney's latest disc, "Against the Wall" (House of Blues).

"Then George told me he was doing drums on the Keith thing," says Sarli in his seriously cool-cat drawl. "He said I should do it too. I said, `You go tell Keith and I'll hold my breath.' " But Sarli had someone else to champion his cause. Mooney's producer Fraboni was also lined up to produce "the Keith thing." One thing really led to another, and in early May Sarli found himself in a Connecticut recording studio for a tryout.

"I walked in and there was Keith sitting at a piano goofing around," says Sarli. "I just grabbed my bass and we started jamming. The tape was running, and we might get a song out of it. Then he picked up a guitar and he started playing and I thought, `Goddamn, that is definitely Keith Richards, in case you hadn't noticed.' " After hanging out for the day, Sarli headed home. Fraboni called and said that Richards "dug the way I sounded on upright and definitely wants me to play on the record," says Sarli.

The timing is "really strange, because in the past couple of years I've been getting back into the Stones in a big way, and listening a lot to Keith's two solo records and I remember thinking about a year ago, `Man, I'd really love to play with this guy.' Now here it is happening."

So having passed the audition, Sarli's waiting for the studio time to be nailed down (probably late July), and with time to kill, is waiting on calls from D.C. bands for some pick-up gigs. With a laugh, Sarli says he's currently available "for weddings and bar mitzvahs. Just because I get to go play with Keith doesn't mean I don't still need work!"